Written by geneterror | 08 May 2012
Posted in Standing Fierce News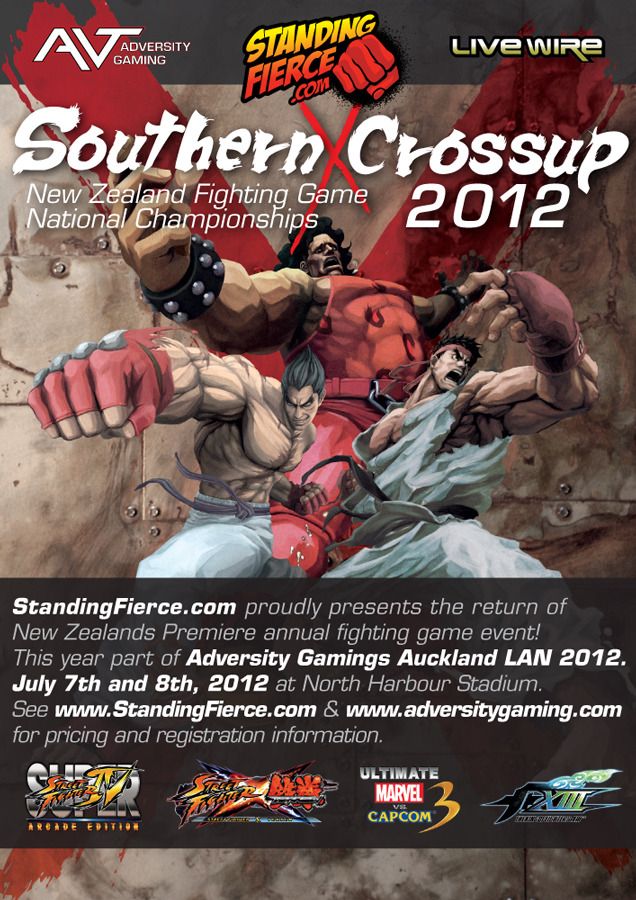 NEW ZEALAND FIGHTING GAME NATIONALS ARE BACK!
The Biggest Fighting Game event in New Zealand just got BIGGER. Standingfierce.com, in association with Adversity Gaming proudly brings you New Zealand's Fighting Game National Championship: Southern Crossup 2012.
All the training, the grinding, the online rage, it has all been building up to THIS POINT. Teaming up in 2012 with Adversity Gaming, we are bringing you a MASSIVE 2-day event. Pool play will be going ahead on the Saturday, and once you have your main games out of the way, we have an almost endless stream of casuals going across the entire weekend for any entrants. From Dawn til dusk, this is THE fighting game event of 2012. From Grand finals to salty runbacks. Side tourneys and money matches. Whether you're in it for glory, or you're in it for love of the genre, Southern Crossup 2012 is the event that you have been waiting for.
See this thread for full info, prices and registration information:
http://www.standingfierce.com/forum/announcements/southernxcrossup-2012-nz-fighting-game-nationals