Written by Niuean Dave | 16 October 2014
Posted in Xmas Damager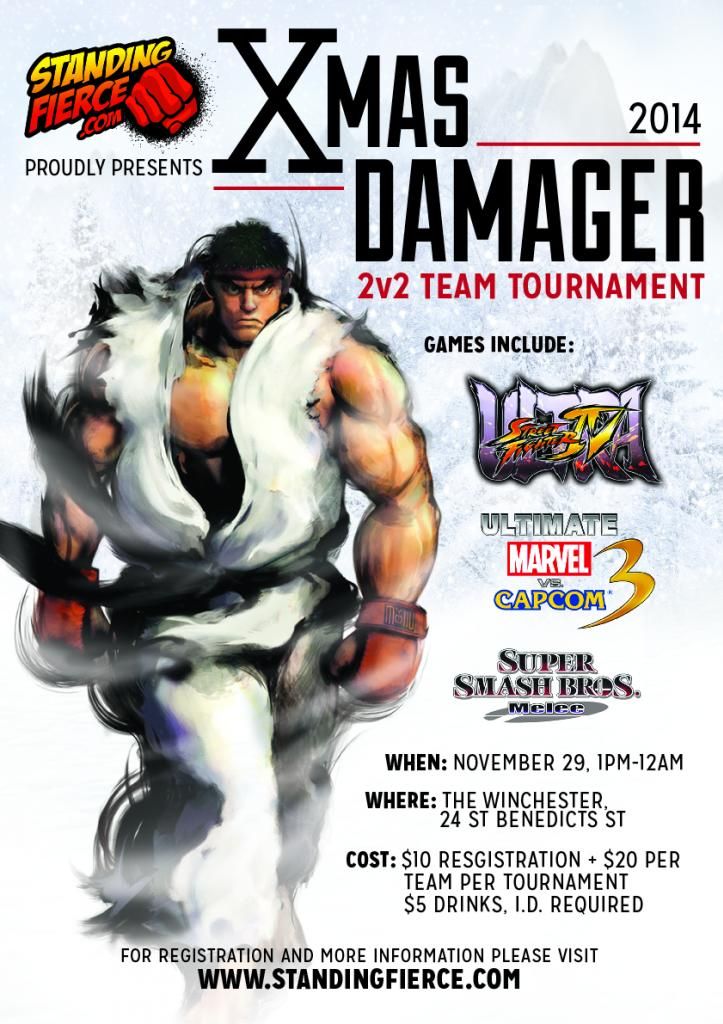 Once again we find ourselves closing in on the end of the year and once again we find ourselves anticipating Xmas Damager.
The end of year "tournaparty" as Dave likes to call it.
Every Xmas Damager we like to keep it fun while still holding some serious competitiveness, so in saying that we bring to you:
XMAS DAMAGER 5: THE 2V2 BEFORE XMAS
We haven't done a 2v2 in a long, long, LONG time.
Date: November 29
Time: 12pm for Admin, 1pm - 12am for everybody else
Venue: The Winchester
Tournament Format: 2v2 Tournament run in Mikado style.
Games: USF4, UMVC3, SSBM.
Cost: $10 registration fee, $20 per team, per tournament
THERE IS A 16 TEAM LIMIT PER TOURNAMENT
but if we get numbers for certain games, then we can expand that number, but not until we reach the original 16.
SO:
Find your teammate here:
http://www.standingfierce.com/forum/vie ... f=1&t=1239
Register your team and games here:
http://www.standingfierce.com/forum/vie ... f=1&t=1238
*In regards to the team registration, either someone can pay the whole $10 or you guys can split it between each other if you don't know each other that well. So don't stress too much about it. Any queries don't hesitate to contact Dave, Kurt or Lenny on the forums.