Written by Niuean Dave | 15 August 2014
Posted in Southern Crossup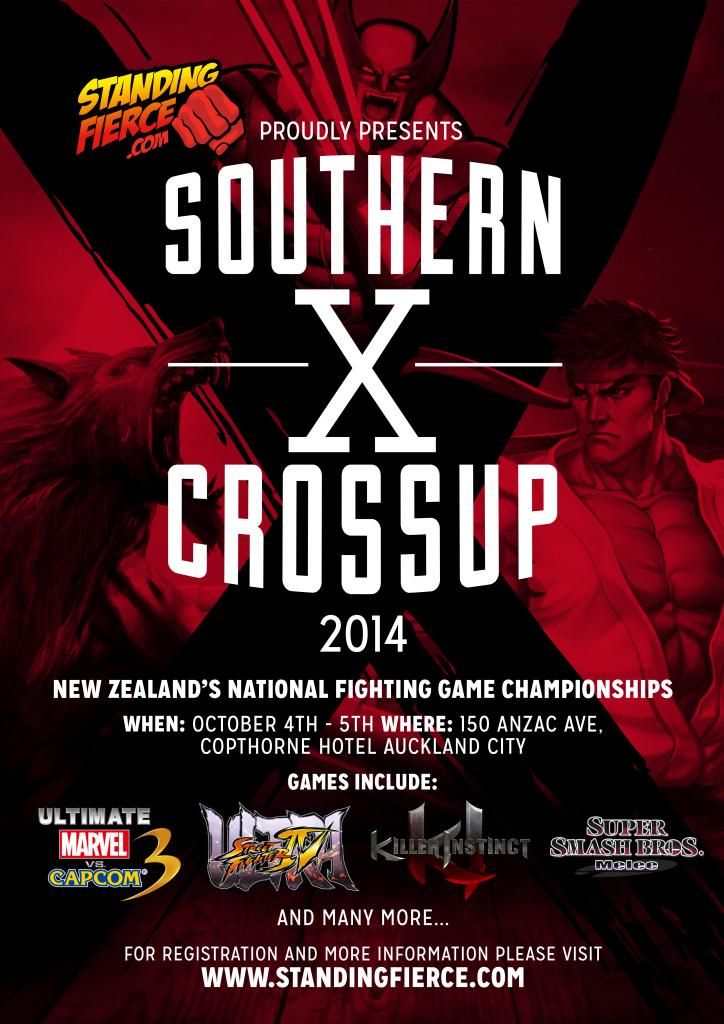 SOUTHERN

X

UP 2014
New Zealands Fighting Games National Tournament
Event Information
Where:
Fergusson Room, Ground Floor, Copthorne Auckland City, 150 Anzac Avenue,
Auckland
Early Bird Registration $20 (Valid until September 21st)
Regular Registration $30 (Valid until September 28)
Event Day Registration $40 (Only available on Saturday morning until 11am)
Casual Pass $10
Tournament Entry $10
Southern X Up, New Zealands longest running national fighting games tournament will be
held over October 4th and 5th.
This year's event will bring together the best in New Zealand's Fighting Game Community (NZFGC), and crown New Zealand's Ultimate Champions in the following games:
Ultra Street Fighter 4
Ultimate Marvel Versus Capcom 3
Super Smash Bros. Melee
Killer Instinct
DIY Tournaments
Think you're the best at one of the games that isn't on the list above?  Been waiting for your chance to prove that you are NZ's "Super Gem Fighter" Champion?  Or maybe you want to find out who is the true "King of Fighters"?  This year we have the time and the space to let people run their own tournaments.  If you want to run a ""DIY" side tournament, get in touch with Dave, Kurt or Lenny and find out how we can get you some space, and maybe even some stream time to run your own tournaments at this years Southern X Up.
Only registered SXU2014 competitors may host/enter any DIY tournaments. Entry fees/conditions will be decided by the DIY organisers, and will be payable to them on the day of the tournament.
Southern X Up will not be in charge of running DIY tournaments, and will not be liable for how they are run.
Casual Play
Standing Fierce aims to provide a place for fighting game enthusiasts to gather and share their passion for fighting games. We will be providing casual play stations throughout the weekend covering all of the games in the official tournament line-up.
All casuals games are only accessible to those who have purchased a "Casual Player" pass or is a registered SXU2014 competitor.
Spectators
People are welcome to come along to Southern X Up 2014 to watch the tournament matches.
Entry is free for spectators