Written by Niuean Dave | 29 January 2014
Posted in First Blood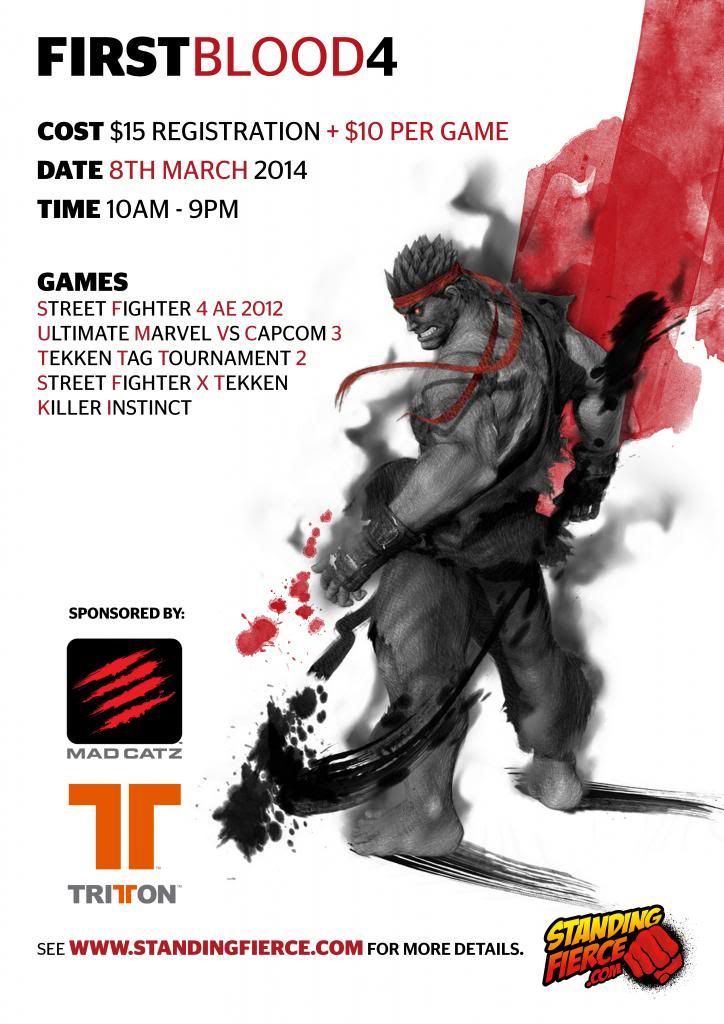 Standing Fierce, in association with Mad Catz and Tritton are proud to present the first tournament of 2014:
FIRST BLOOD 4!!!!!
Saturday March 8th
10am until 9pm
At the Auckland Rose Park Hotel (
http://www.aucklandroseparkhotel.co.nz/
)
$15 registration fee +$10 per game. Registration closes Friday 7th of March.
Time to get serious, Christmas time is over and it is a brand new year. That means: BRAND NEW CHAMPIONS
With the pending release of Ultra Street Fighter 4, this could be the last chance to be the winner of a Super Street Fighter 4 tournament!
Last year was quite a busy year for us and this year looks to be just as jam packed with events, so what better way to kick off then by coming along and jamming out and catching up with everyone.
Not only that, but we MIGHT* have some kind of raffle going on for something cool, but you need to be there on the day to find out.
We will be finalizing details about our stream which we will be running, this year we are hoping to run streams at all our major events, so if you have thought about being a commentator, come down and you might be one of the lucky few that gets a go at commentating matches.
So official tournament games will be:
Super Street Fighter 4: Arcade Edition 2012
Ultimate Marvel Versus Capcom 3
Tekken Tag Tournament 2
Street Fighter X Tekken
Killer Instinct*
As always if there aren't enough tournament entrants then we won't run a tournament.
Double Elimination Brackets
A required minimum of 8 people per game.
*A required minimum of 16 people are needed for Killer Instinct.
Registrations can be found here: 
http://www.standingfierce.com/forum/vie ... f=1&t=1050
Rules and Regulations:
Tournament Rules: 
Standard Standing Fierce tournament rules apply. Please see here: 
http://www.standingfierce.com/forum/ann
 ... 0&offset=0
So make sure to get practicing and get registered! 
OOOOOO YEAH STANDING FIERCE 2014
More Articles...